Changes in the Air To assess the impact of human activity on the carbon dioxide level in Earth's atmosphere, it helps to take a long view. One useful data set comes from deep core samples of Antarctic ice. The oldest ice core that has been fully analyzed dates back a bit more than 400,000 years. Air bubbles trapped in the ice provide information about the gas content in Earth's atmosphere at the time the ice formed. Combining ice core data with more recent direct measurements of atmospheric carbon dioxide—as in FIGURE 46.13—can help scientists put current changes in the atmospheric carbon dioxide into historical perspective.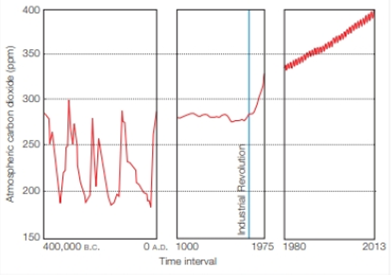 FIGURE 46.13 Changes in atmospheric carbon dioxide levels (in parts per million). Direct measurements began in 1980. Earlier data are based on ice cores.
Was the rise in the carbon dioxide level between 1800 and 1975 larger or smaller than the rise between 1980 and 2013?