Lee Manufacturing Corporation was incorporated on January 3, 2018. The corporation's financial statements for its first year's operations were not examined by a CPA. You have been engaged to examine the financial statements for the year ended December 31, 2019, and your examination is substantially completed. Lee's trial balance at December 31, 2019, appears as follows: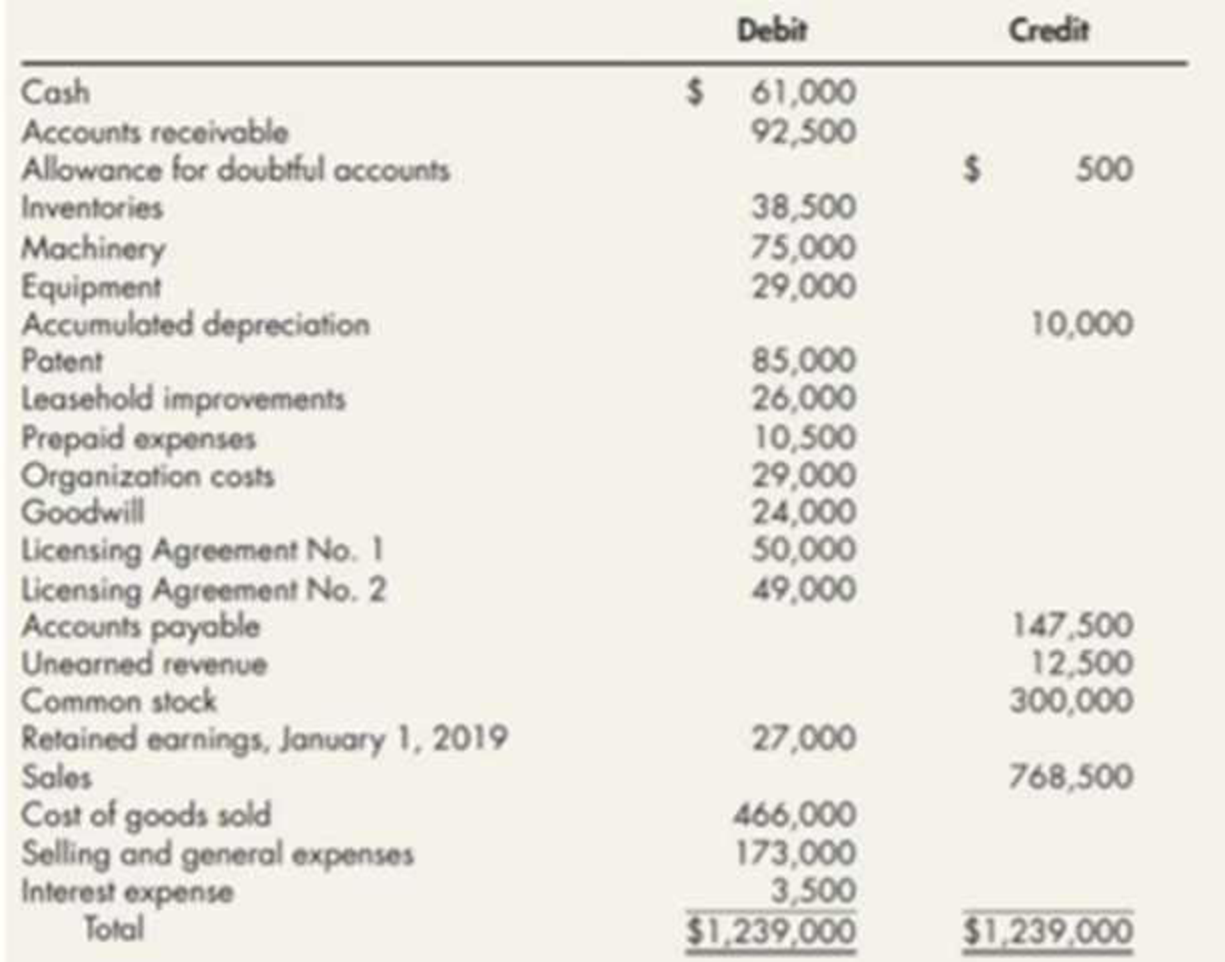 The following information relates to accounts that may vet require adjustment:
1. Patents for Lee's manufacturing process were acquired January 2, 2019, at a cost of $68,000. An additional $17,000 was spent in December 2019 to improve machinery covered by the patents and charged to the Patent account. Depreciation on fixed assets has been properly recorded for 2019 in accordance with Lee's practice which provides a full year's depreciation for property on hand June 30 and no depreciation otherwise. Lee uses the straight-line method fix all depreciation and amortization and amortizes its patents over their legal life.
2. On January 3. 2018, Lee purchased licensing Agreement No. 1, which was believed to have an indefinite useful life. The balance in the licensing Agreement No. 1 account includes its purchase price of $48,000 and costs of $2,000 related to the acquisition. On January 1, 2019, Lee purchased licensing Agreement No. 2, which has a life expectancy of 10 years. The balance in the Licensing Agreement No. 2 account includes its $48,000 purchase price and $2,000 in acquisition costs, but it has been reduced by a credit of $1,000 for the advance collection of 2020 revenue from the agreement. In late December 2018, an explosion caused a permanent 60% reduction in the expected revenue-producing value of licensing Agreement No. 1, and in January 2020 a flood caused additional damage that rendered the agreement worthless.
3. The balance in the Goodwill account includes (a) $8,000 paid December 30, 2018, for newspaper advertising for the next 4 years following the payment, and (b) legal costs of $16,000 incurred for Lee's incorporation on January 3, 2018.
4. The Leasehold Improvements account includes (a) the $15,000 cost of improvements with a total estimated useful life of 12 years, which Lee, as tenant, made to leased premises in January 2018; (b) movable assembly line equipment costing $8,500 that was installed in the leased premises in December 2019; and (c) real estate taxes of $2,500 paid by Lee in 2019, which under the terms of the lease should have been paid by the land-lord. Lee paid its rent in full during 2019. A 10-year nonrenewable lease was signed January 3, 2018, fix the leased building that Lee used in manufacturing operations.
5. The balance in the Organization Costs account includes costs incurred during the organizational period.

Required:
Prepare a worksheet (spreadsheet) to adjust accounts that require adjustment and prepare financial statements. Formal adjusting journal entries and financial statements are not required. No intangible assets are impaired at the end of 2019. Ignore income taxes.