15-46 Consider Lunesta, a nonbenzodiazepine hypnotic agent (i.e., sleep-inducing drug) that is frequently advertised on TV commercials. Answer the following questions with respect to the given structure: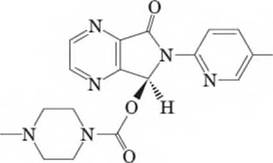 Lunesta
Determine the molecular formula for Lunesta.
Identify the functional groups present in Lunesta.
How many of Lunesta's rings are aromatic?
Fill in the blanks as shown: Lunesta has
stereocenter(s) and therefore
possible stereoisomer(s). Of the possible
stereocenter(s),
is/are R and
is/are S.
Does Lunesta have an enantiomer? Does it have a diastereomer?
Which of the following is true about an enantiomer of Lunesta? Identify all that apply:
The enantiomer rotates plane-polarized light in the opposite direction as Lunesta.
The enantiomer is a mirror image of Lunesta.
The enantiomer has the opposite biological effects as Lunesta (i.e., it keeps you awake).
Lunesta does not have an enantiomer.
Draw an enantiomer of Lunesta.
Examine the derivative of the representation of the six-membered ring found in Lunesta. Draw the alternative chair conformations of this ring and label the more stable chair conformation. (Chapter 11)