Enhanced Spatial Learning Ability in Mice Engineered to Carry an Autism Mutation Autism is a neurobiological disorder with symptoms that include impaired social interactions and repetitive, stereotyped patterns of behavior. Around 10 percent of autistic people also have an extraordinary skill or talent such as greatly enhanced memory.
Mutations in the gene for neuroligin 3, an adhesion protein that connects brain cells, have been associated with autism. One of these mutations is called R451C because the altered gene encodes a protein with an amino acid substitution: a cysteine (C) instead of an arginine (R) in position 451.
In 2007, Katsuhiko Tabuchi and his colleagues introduced the R451C mutation into the neuroligin 3 gene of mice. The researchers discovered that the genetically modified mice had impaired social behavior and superior spatial learning ability.
Spatial learning in mice is tested with a water maze, which consists of a small platform submerged a bit below the surface or a pool of water so it is invisible to a swimming mouse. Mice do not particularly enjoy swimming, so they try to locate the hidden platform as quickly as they can. When tested again later, they remember the platform's location by checking visual cues around the edge or the pool. How quickly they remember is a measure of their spatial learning ability. FIGURE 15.14 shows some or Tabuchi's result.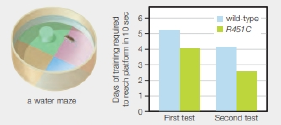 FIGURE 15.14 Spatial learning ability in mice. Mice with a mutation in neuroligin 3 (R451C) were tested for learning performance: as compared with unmodified (wild-type) mice.
Which mice learned faster the second time around?