T ACCOUNTS AND TRIAL BALANCE Sue Jantz started a business in August 20-- called Jantz Plumbing Service. Jantz hired a part-time college student as an administrative assistant. Jantz has decided to use the following accounts: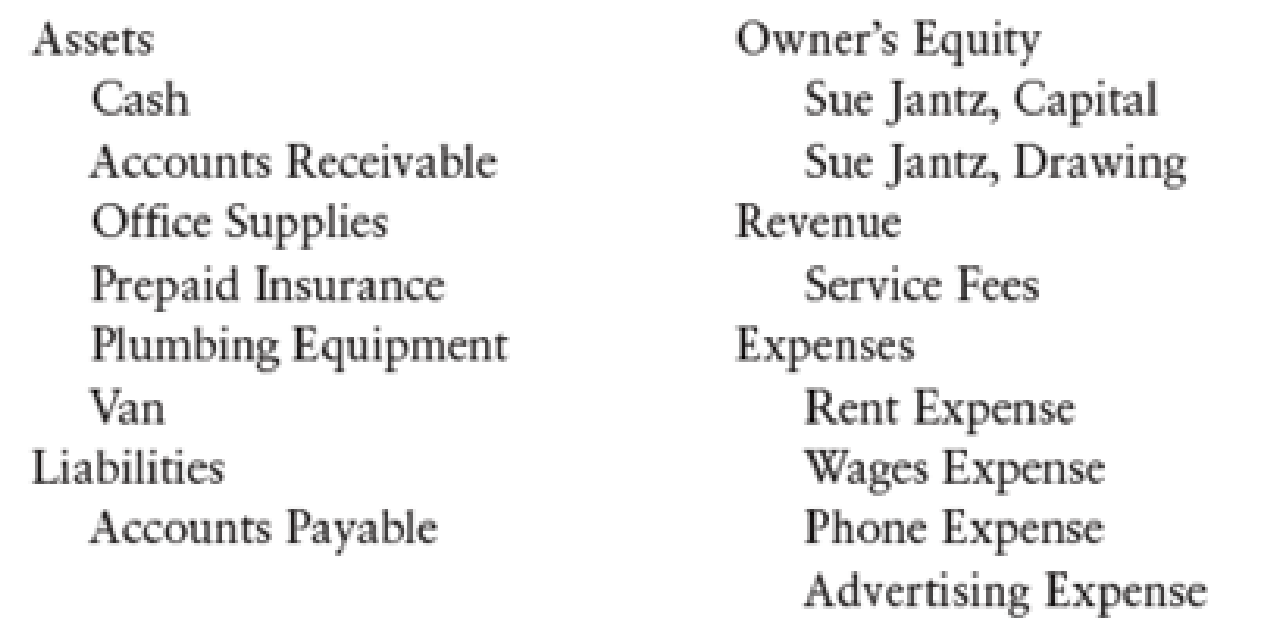 The following transacrions occurred during August:
(a) Invested cash in the business, $30,000.
(b) Purchased a used van for cash, $8,000.
(c) Purchased plumbing equipment on account, $4,000.
(d) Received cash for services rendered, $3,000.
(e) Paid cash on account owed from transaction (c), $1,000.
(f) Paid rent for the month, $700.
(g) Paid phone bill, $100.
(h) Earned revenue on account, $4,000.
(i) Purchased office supplies for cash, $300.
(j) Paid wages to student, $500.
(k) Purchased a one-year insurance policy, $800.
(l) Received cash from services performed in transaction (h), $3,000.
(m) Paid cash for advertising expense, $2,000.
(n) Purchased additional plumbing equipment for $2,000, paying $500 cash and spreading the remaining payments over the next six months.
(o) Earned revenue from services for the remainder of the month of $2,800: $1,100 in cash and $1,700 on account.
(p) Withdrew cash at the end of the month, $3,000.
REQUIRED
1. Enter the transactions in T accounts, identifying each transaction with its responding letter.
2. Foot and balance the accounts where necessary.
3. Prepare a trial balance as of August 31, 20--.