Interpretation:
The curve which tells about two consequences of great biological significance on earth and astronomers who are able to determine the temperature at the surface of stars should be explained.
Concept Introduction:
Black Body Radiation
When solids are heated, they emit radiations which vary over a broad range of wavelengths.  For example: when solid is heated, the color is changed which is continued with a further increase in temperature.  When the temperature increases, this change in color occurs from a lower frequency to a higher frequency region.  For example, in many cases, it changes from red to blue.  An ideal body which can emit and absorb radiation of all frequencies is called a black body.  The radiation emitted by such bodies is called black body radiation. The examples of blackbody radiation are red glow of the element of an electric stove and the bright white light of a tungsten light bulb.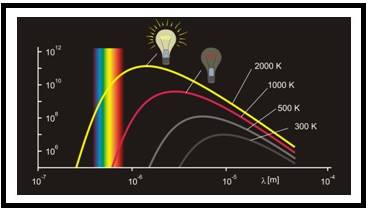 Figure.1
Thus, the variation of frequency for a black body radiation depends on the temperature.  At a given temperature, the intensity of radiation is increased with an increase in the wavelength of radiation which increases to a maximum value and then decreases with an increase in the wavelength.  This phenomenon couldn't be explained with Maxwell's suggestions.  Hence Planck proposed the Planck's quantum theory to explain this phenomenon.
To find: Explain the curve which tells about two consequences of great biological significance on earth