Interpretation:
The minutes in which a radio wave travels from the planet Venus to Earth should be calculated.
Concept Introduction:
A wave is a disturbance or variation which travels through a medium transporting energy without transporting matter.  Its speed depends on the type of wave and the nature of the medium through which the wave is travelling (e.g., air, water or a vacuum).  The speed of light through a vacuum is .  In most calculations, the speed of light is rounded to three significant figures: .  The speed of light in is .
Electromagnetic energy is used to illustrate all different kinds of energies released into space by stars and the sun.  Although all electromagnetic radiation comes from the sun, ozone layer stops ultraviolet radiation from getting to the human beings.  The different waves are radio waves, TV waves, microwaves, infrared, ultraviolet waves, X-rays, gamma rays and cosmic rays.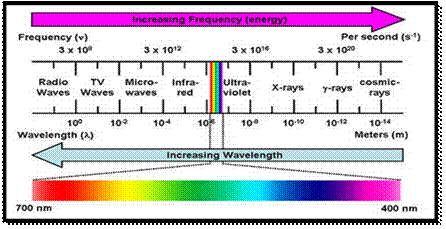 Figure.1
To find: Calculate the minutes in which a radio wave travels from the planet Venus to Earth