Given information:
A property owner wants to fence a garden plot adjacent to a road, as shown in figure. The fencing next to the road must be sturdier and cost per foot, but the other fencing costs just per foot. The garden is to have an area of .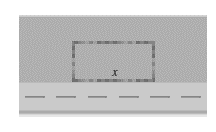 Calculation:
As given the area of the garden is and the length of the fence along the road side is .
So, the breadth of the rectangular garden is equal to .
The cost of the fence along the roadside is per foot and the cost for fencing of other sides is equal to per foot.
Evaluate the function for the total cost for fencing of garden.
So, the function of the total cost of fencing the garden is given by . To minimize the cost of fencing the rectangular region graph the function .
To graph a function , follow the steps using graphing calculator.
First press "ON" button on graphical calculator, press key and enter right hand side of the equation after the symbol . Enter the keystrokes .
The display will show the equation,
Now, press the key and key to produce the graph of given function in standard window as shown in Figure (1).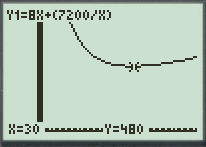 Figure (1)
As observed from the graph, the cost function has minimum value equal to at .
So, the length of the region is equal to and breadth of the region is equal to .
Therefore, the model for the cost of fencing of the garden is equal to and the dimensions of garden that minimize the cost of fencing are by .