Effect of MDMA on Neural Development Animal studies are often used to assess effects of prenatal exposure to illicit drugs. For example, Jack Lipton used rats to study the behavioral effect of prenatal exposure to MDMA, the active ingredient in the drug commonly called Ecstasy. He injected female rats with either MDMA or saline solution when they were 14 to 20 days pregnant. This is the period when their offsprings'·brains were forming. When those offspring were 21 days old, Lipton tested their ability to adjust to a new environment. He placed each young rat in a new cage and used a photobeam system to record how much each rat moved around before settling down. FIGURE 32.15 shows his results.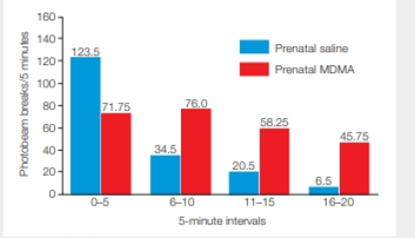 FIGURE 32.15 Effect of prenatal exposure to MDMA on rats. Young (21-day-old) rats were place in an unfamiliar cage. Movements were detected when the rat interrupted a photobeam. Rats were monitored at 5-minute interval for a total of 20 minutes. Blue bars are average numbers of photobeam breaks for rats whose mothers received saline; red bars are for rats whose mothers received MDMA.
How many photobeam breaks did the MDMA-exposed rats make during their second 5 minutes in the new cage?