To analyze:
Michelle Khan and her coworkers studied cervical cancer and human papillomavirus (HPV) status in 20,514 women for 10 years and published their findings in 2003. They performed papanicolaou test at regular intervals, and the DNA probe hybridization test was performed to detect the presence of a specific type of HPV in the women's cervical cells. No woman was infected with cervical cancer when the test began.
The percentage of women at 110 months, not infected with any type of cancer-causing HPV, had cervical cancer, and the percentage of women suffering from cervical cancer also had HPV16 infection, is to be analyzed from the graphs of their published results, given below.
The results for Michelle and her coworkers' studies are shown in a graphical pattern below: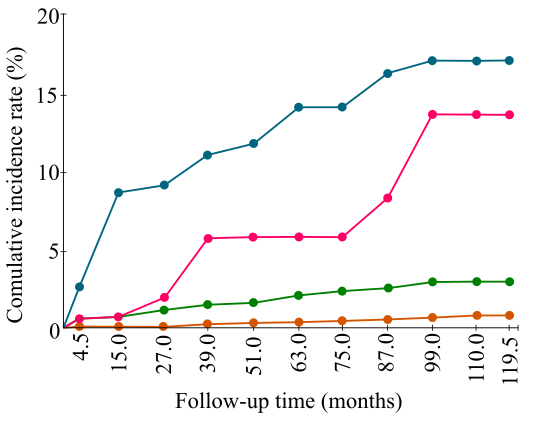 The keys for the graph are given below:

Introduction:
Cervical cancer is a major type of cancer found in women, mainly caused by a virus called the human papilloma virus (HPV). This virus causes cancer in the cervical cells of the uterus. There are more than 100 strains of HPV present, but only a few causes cervical cancer. The most commonly noticed cervical cancers are caused by HPV16 and HPV18.