Chapter 5.3, Problem 4EE
Give a reason why the graph below Cannot be the projection of a regular Convex polyhedron.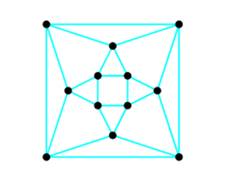 If the above graph is the projection of a three-dimensional convex polyhedron, how many faces does the polyhedron have?
Describe, in as much detail as you can, additional features of the polyhedron corresponding to the graph. If you are feeling adventurous, sketch a polyhedron that this graph could be a projection of!
Expert Solution & Answer