Job cost sheet
Hallmark Furniture Company refinishes and reupholsters furniture. Hallmark Furniture uses a job order cost system. When a prospective customer asks for a price quote on a job. the estimated cost data are inserted on an unnumbered job cost sheet. If the offer is accepted, a number is assigned to the job, and the costs incurred are recorded in the usual manner on the job cost sheet. After the job is completed, reasons for the variances between the estimated and actual costs are noted on the sheet. The data are then available to management in evaluating the efficiency of operations and in preparing quotes on future jobs. On February 14, 20YI, an estimate of $897.60 for reupholstering a chair and couch was given to Millard Schmidt. The estimate was based on the following data:


On February 17, the chair and couch were picked up from the residence of Millard Schmidt, 315 White Oak Drive, Columbus, Georgia, with a commitment to return them on March 15. The job was completed on March 9.
The related materials requisitions and time tickets are summarized as follows: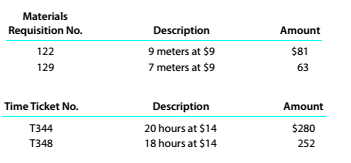 Instructions
Prepare a job cost sheet showing the estimate given to the customer. Use the format shown on the next page.