Interpretation: The strongest conjucate base has to be identified.
Concept introduction:
Bronsted –Lowry conjugated acid-Base pairs:
When an acid is dissolved in water, the acid donates a proton to water to form a new acid (conjugated acid) and a new base (conjugated base).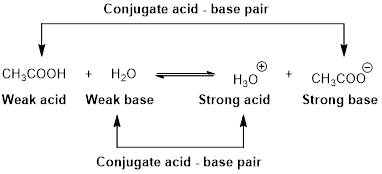 The pair of an Acid –Base differs by a proton called conjugated Acid-Base pair.
An equilibrium constant is the ratio of concentration of products and reactants raised to appropriate stoichiometric coefficient at equlibrium.
For the general acid HA,
The relative strength of an acid and base in water can be also expressed quantitatively with an equilibrium constant as follows:
An equilibrium constant with subscript indicate that it is an equilibrium constant of an acid in water.