Journalizing, Posing, and Preparing a Trial Balance
A friend of yours, Anika Valli, has decided to open a spa to serve her small resort town of about 7,000 people and 4 million tourists annually. She has named the business All About You Spa to convey the idea that the business intends to pamper those who enter its doors. She will operate the spa five days a week, Tuesday through Saturday, but a phone line will always be available to answer questions and schedule appointments. Hours will be from 8 A.M. to 8 P.M. She has asked you to be the bookkeeper for this new business. At the end of the month of October, the owner, Anika Valli, would like you to provide the following:
1. General journal
2. General ledger
3. Trial balance
4. Income statement
5. Statement of owner's equity
6. Balance sheet
She has kept a checkbook and a file folder with summary evidence of October's spa activity: a check register, a summary report of charges by customers for services provided, all receipts that were issued, and a summary of charges made by All About You Spa. Most of the income from services is received in cash and as charges to credit cards. No checks are accepted, except from approved clients (primarily conference planners and other organizations that book packages as prizes for attendees or gifts for employees, speakers, or other people they want to thank with a spa service or package of services). Anika deposits cash receipts on customer's accounts on the 7th, 14th, 21st, and last day of each month.


The first page in the file folder contains the following chart of accounts. Currently, you will not use or may not be familiar with some of the accounts listed here. Ignore those accounts for now; we will use them later.
The basis of your entries will be the following documents: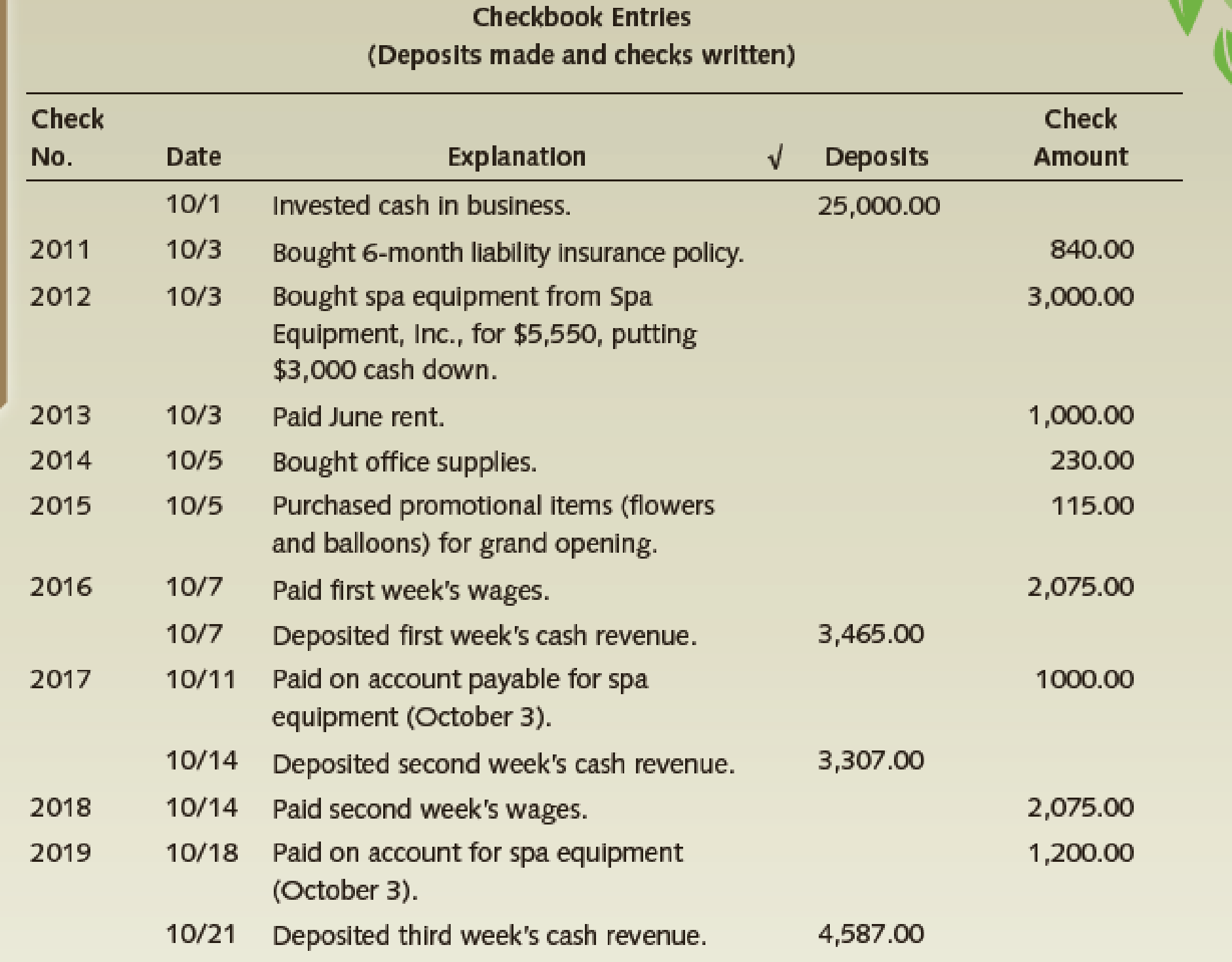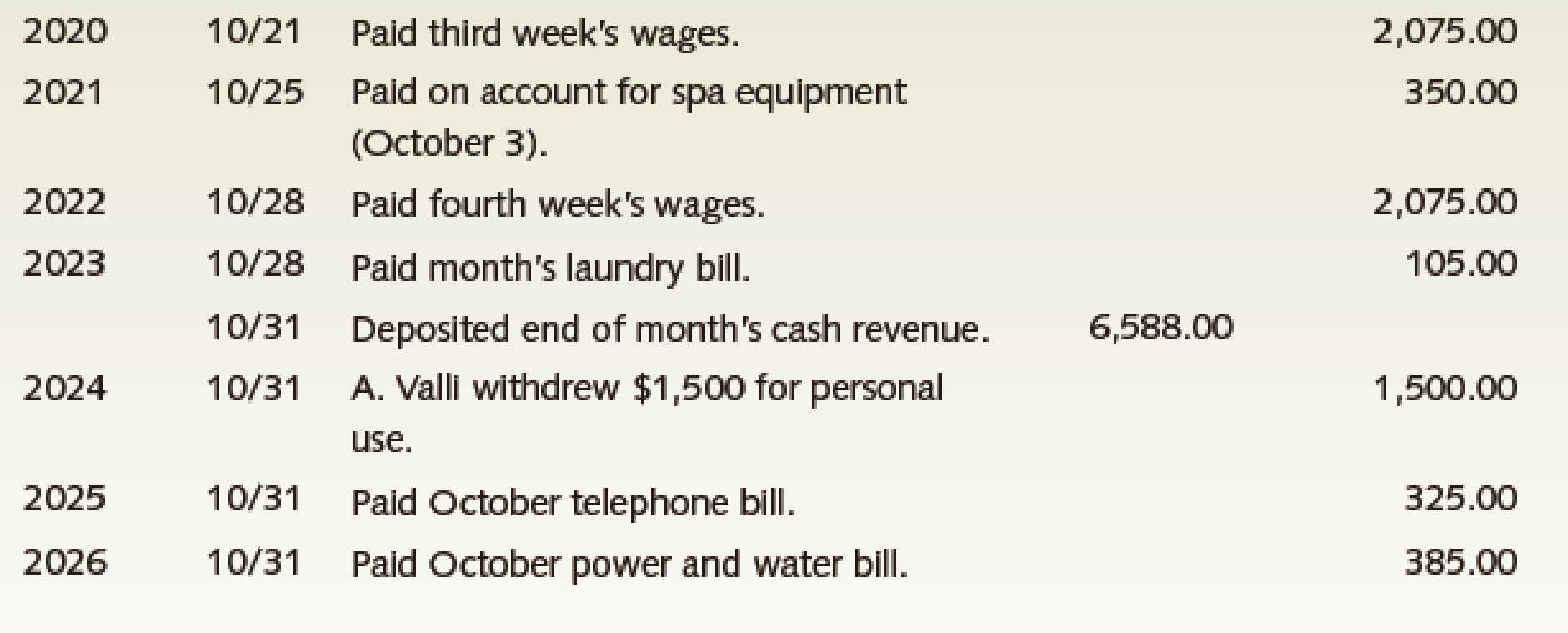 Other information that require journal entries: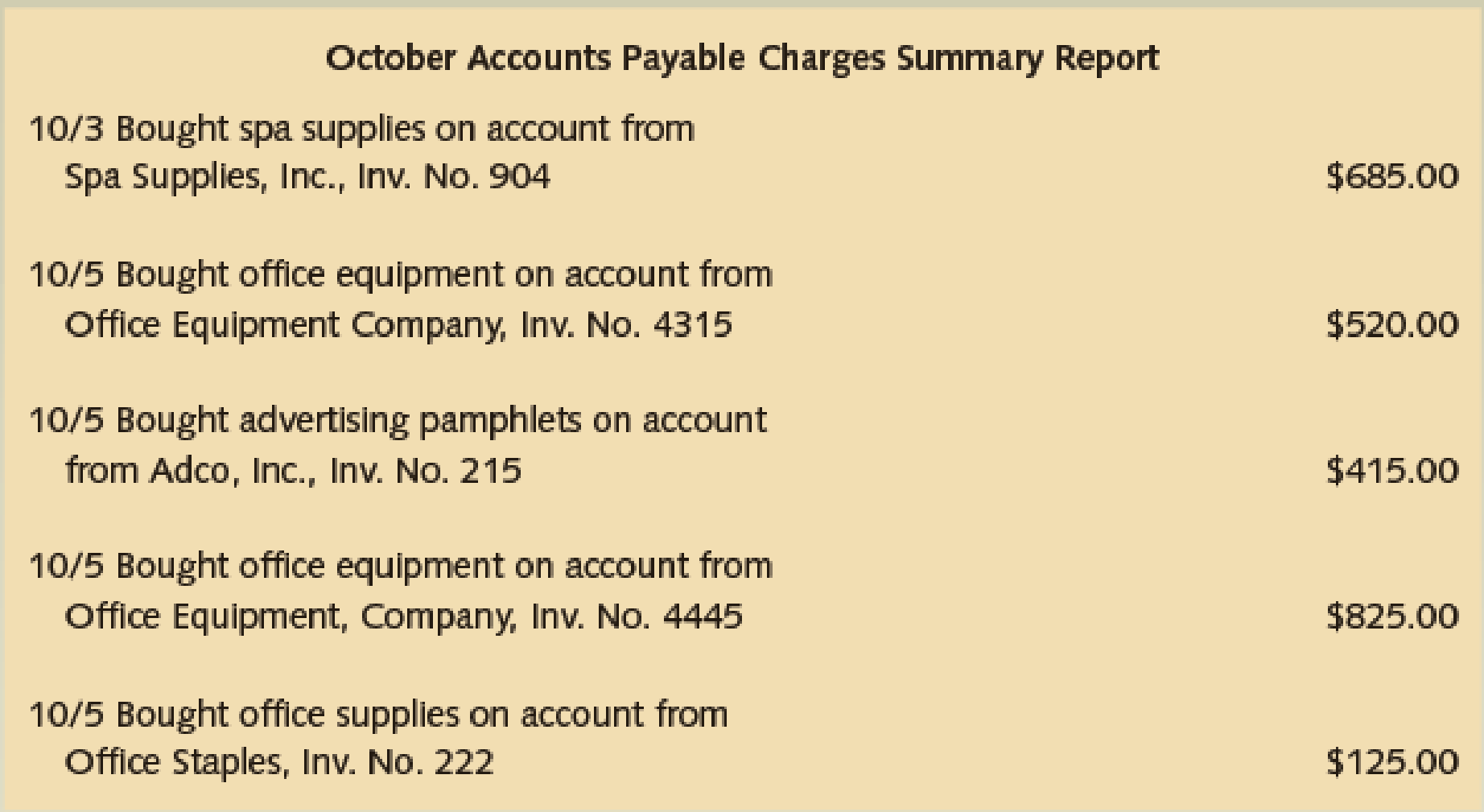 Required
1. Journalize the transactions for October (in date order) in the general journal.

— If you are using GL, review the instructions for the program on the textbook website. If you are preparing the journal entries manually, enter your transactions beginning on page 1.

2. Post the entries to the general ledger accounts.

— Ignore this step if you are using CLGL.

3. Prepare a trial balance as of October 31, 20–.
4. Prepare an income statement for the month ended October 31, 20–.
5. Prepare a statement of owner's equity for the month ended October 31, 20—.
6. Prepare a balance sheet as of October 31, 20–.
*If you are using CLGL, use the year 2020 when recording journal entries and preparing reports.