Effect of BPA on Insulin Secretion Bisphenol A (BPA) is an endocrine disruptor that may increase the risk of type 2 diabetes. Angel Nadal suspected that BPA disrupts insulin metabolism by activating an estrogen receptor on pancreatic islet cells. FIGURE 34.11 shows the results of one experiments. Cultured cells from human pancreatic islets were exposed either to BPA or to DPN, a chemical that binds to the estrogen receptor and activates it. Cells were then exposed to glucose, and their insulin Secretion was monitored.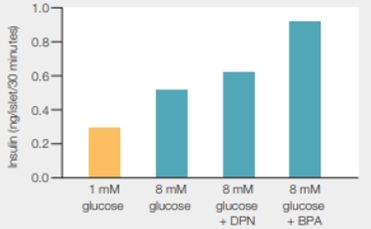 FIGURE 34.11 Effects of BPA and DPN on glucose-stimulated insulin secretion. DPN is a chemical known to bind and activate estrogen receptors on pancreatic cells. A glucose concentration of 8 millimolar (mM) is equivalent to that of the blood after a meal.
How were the effects or DPN and BPA similar? How did they differ?