Smoking and Lung Function Data from the Coronary Artery Risk Development in Young Adults (CARDIA) study was used to assess the effects of smoking on lung function. In 1985--86, the study enrolled about 5,000 people aged 18 to 30 years old in a long term study. Over the next 20 years, study subjects were periodically asked about their habits and their health, including their lung function, was assessed. FIGURE 38.19 is a model based on data from this study, of how lifetime tobacco and marijuana use affects forced expiration.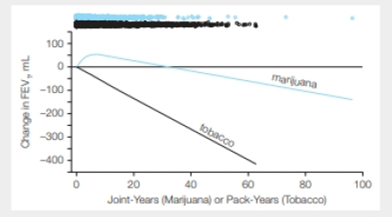 FIGURE 38.19 Associations between marijuana or tobacco smoking and the change in forced expiration volume (FEV). One joint-year means an average of one joint smoked daily for one year. One pack-year is an average of one pack smoked per day for one year. Dots at the top of the graph show the distribution of observations. Lines below show the modeled association. Blue is marijuana and black is tobacco. The change in FEV1 is given as milliliters of air.
Relatively few people had the highest level of lifetime marijuana exposure. How might additional data from such users alter the model?