Stuck Sperm Cells lining the epididymis secrete a glycoprotein (beta-defensin) that coats sperm and facilitates their passage through cervical mucus. There are two common alleles for human beta-defensin: a wild-type allele (wt) and an allele with a deletion (del). To find out if this genetic variation could affect fertility, Gary Cherr and his colleagues tested the ability of sperm from men with different genotypes to pass through a gel barrier. The barrier was designed to simulate cenrical mucus. The researchers placed sperm on one side of the gel, then used a video camera to record how many passed into the gel over time. FIGURE 41.12 illustrates their results.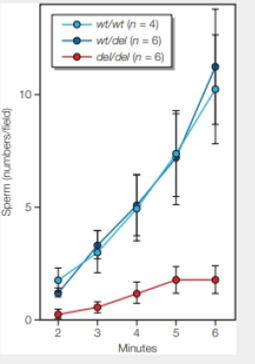 FIGURE 41.12 Effect of beta defensin genotype on the ability of sperm to penetrate a gel that simulates cervical mucus. Sperm from 16 men was tested: 4wt/wt, 6wt/del, and 6 del/del.
Fresh sperm were placed on one side of the gel, and a video camera was focused on a region 2.75 mm into the gel. The number of sperm in this region was recorded at one-minute intervals for six minutes. Sperm numbers shown are averages. Bars indicate range.
Given these results, which genotype or genotypes, would you expect to be associated with infertility?