Testing Biological Control Biological control agents are used to battle red imported fire ants. Researchers have enlisted the help of Thelohania solenopsae, a natural enemy of the ants. This microsporidian (Section 23.4) is a parasite that infects ants and shrinks the ovaries of the colony's egg-producing female (the queen). As a result, a colony dwindles in numbers.
Are these biological controls useful against imported fire ants? To find out, USDA scientists treated infested areas with either traditional pesticides or pesticides plus biological controls (both flies and the parasite). The scientists left some plots untreated as controls. FIGURE 45.16 shows the results.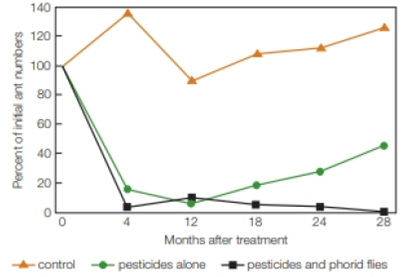 FIGURE 45.16 A comparison of two methods of controlling red imported fire ants. The graph shows the numbers of red imported fire ants over a 28-month period. Orange triangles represent untreated control plots. Green circles are plots treated with pesticides alone. Black squares are plots treated with pesticide and biological control agents (parasitoid flies and a microsporidian parasite).
Would your conclusion differ at the end of the time period shown?