Insect-Assisted Fertilization in Moss Moss sperm can swim, but plant ecologist Nils Cronberg suspected that they sometimes hitch a ride on crawling insects or mites (tiny animals related to spiders). To test this hypothesis he carried out an experiment. He placed patches of male and female moss gametophytes in dishes, either next to one another or with water-absorbing plaster between them. The plaster prevented sperm from Swimming between plants. He then looked at how the presence or absence of insects affected the number of sporophytes formed. FIGURE 22.8 shows his results.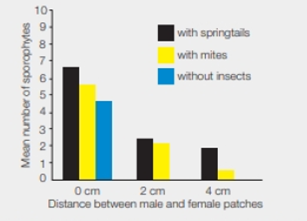 FIGURE 22.8 Sporophyte production in female moss patches with and without either crawling insects (springtails) or mites. No Sporophytes formed in the animal-free dishes when moss patches were 2 or 4 centimeters apart
Does this study support the hypothesis that insects and mites aid moss fertilization?