TCE Uptake by Transgenic Plants Plants used for phytoremediation take up pollutants, then transport the chemicals to cells that store, detoxify, or release them to the air. Researchers are now engineering transgenic plants that have an enhanced ability to carry out these tasks.
Sharon Doty and her colleagues published the results of their efforts to genetically engineer plants for phyroremediation of soil and air contaminated with organic solvents. The researchers used Agrobacterium tumefaciens (Section 15.7) to deliver a mammalian gene into poplar plants. The gene encodes cytochrome P450, an enzyme involved in the breakdown of a range of organic molecules, including solvents such as TCE. FIGURE 28.1 shows data from one test on the resulting transgenic plants.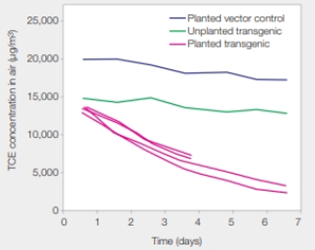 FIGURE 28.1 TCE uptake from air by transgenic poplar plants.
Individual potted plants were kept in separate sealed containers with an initial level of TCE (trichloroethylene) around 15,000 micrograms per cubic meter of air. Samples of the air in the containers were taken daily and measured for TCE content. Controls included a tree transgenic for a Ti plasmid with no cytochrome P45D in it (vector control), and a bare-root transgenic tree (one that was not planted in soil).
In which group did the researchers see the slowest rate of TCE uptake? The fastest?