Who's the Pollinator? Massonia depressa is a low-growing succulent plant native to the desert of South Africa. The dull-colored flowers of this monocot develop at ground level, have tiny petals, emit a yeasty aroma, and produce a thick, jellylike nectar. These trails led researchers to suspect that desert rodents such as gerbils pollinate this plant. The researchers trapped rodents in areas where M. depressa grows and checked them for pollen (FIGURE 29.7A,B). They also put some plants in wire cages that excluded mammals, but not insects, to see whether fruits and seeds would form in the absence of rodents (FIGURE 29.7C).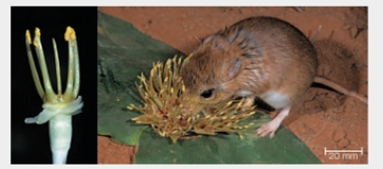 A The dull petalless, ground-level flower of Massonia depressa are accessible to rodents, who push their heads through the stamens to reach the nectar at the bottom of floral cups. Note the pollen on the gerbil's snout.

B Evidence of visits to M. depressa by rodents.
| | | |
| --- | --- | --- |
|   | Mammals allowed access to plants | Mammals excluded from plants |
| Percent of plants that set fruit | 30.4 | 4.3 |
| Average number of fruits per pant | 1.39 | 0.47 |
| Average number of seeds per plant | 20.0 | 1.96 |
C Fruit and seed production of M. depressa with and without visits by mammals. Mammals were excluded from plants by wire cages with openings large enough for insects to pass through. Twenty-three plants were tested in each group.
FIGURE 29.7 Testing pollination of M. depressa by rodents.
How did the average number of seeds of produced by caged plants compare with that of control plants?