Profitability and stockholder ratios
Harley-Davidson, Inc. (HOG),
is a leading motorcycle manufacturer in the United States. The company manufactures and sells a number of different types of motorcycles, a complete line of motorcycle parts, and brand-related accessories, clothing, and collectibles.
The following information is available for three recent years (in millions except per-share amounts):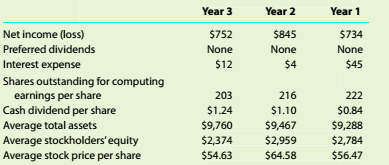 Calculate the following ratios for each year. Round to one decimal place except dollar amounts, which should he rounded to the nearest cent.
a.Return on total assets
b.Return on stockholders' equity
c.Earnings per share
d.Dividend yield
e.Price-earninus ratio using the average price oer share of stock.