This problem is designed to enable you to apply the knowledge you have acquired in the preceding chapters. In accounting, the ultimate test is being able to handle data in real life situations. This problem will give you valuable experience.
CHART OF ACCOUNTS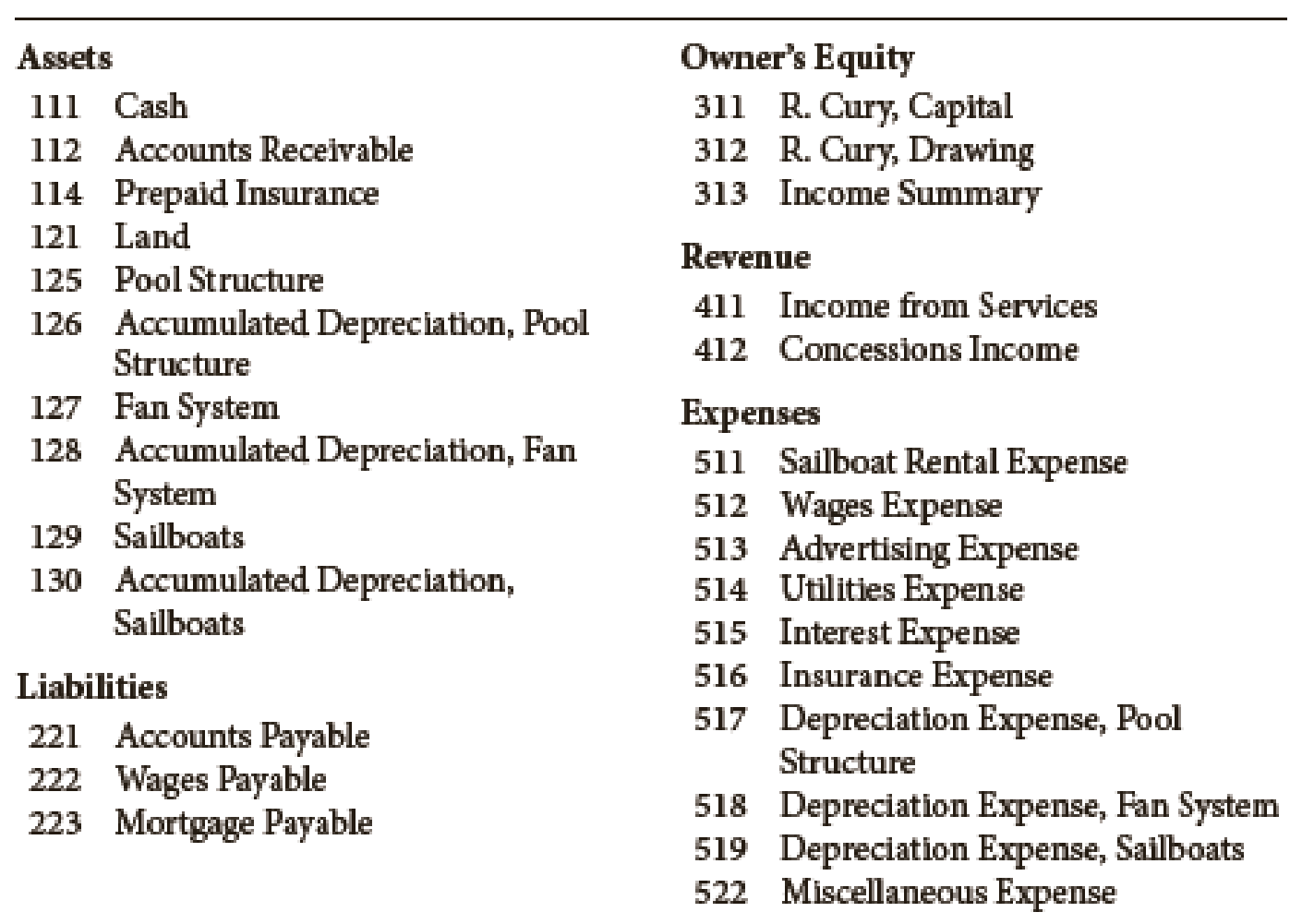 You are to record transactions in a two-column general journal. Assume that the fiscal period is one month. You will then be able to complete all of the steps in the accounting cycle.
When you are analyzing the transactions, think them through by visualizing the T accounts or by writing them down on scratch paper. For unfamiliar types of transactions, specific instructions for recording them are included. However, reason them out for yourself as well. Check off each transaction as it is recorded.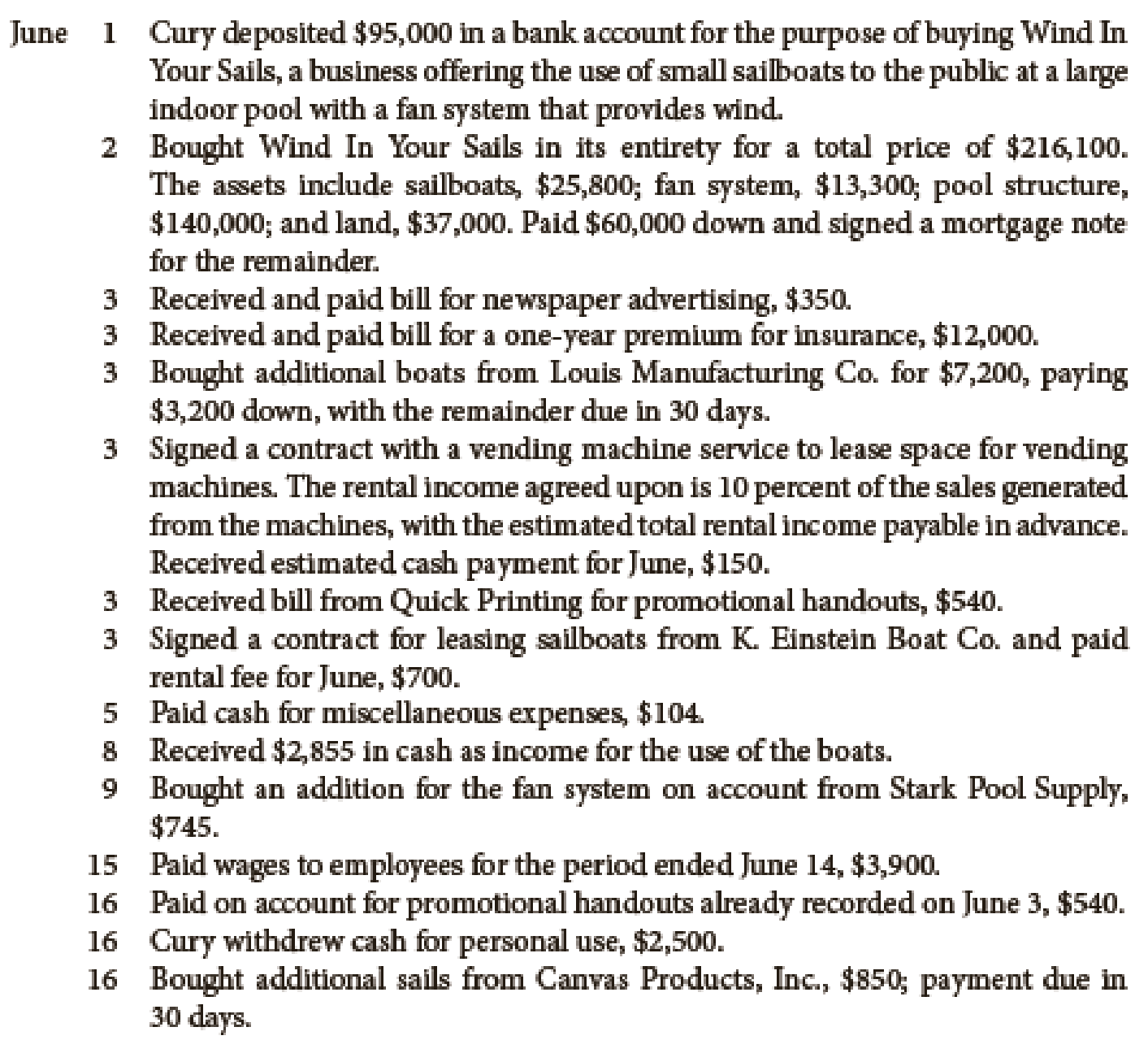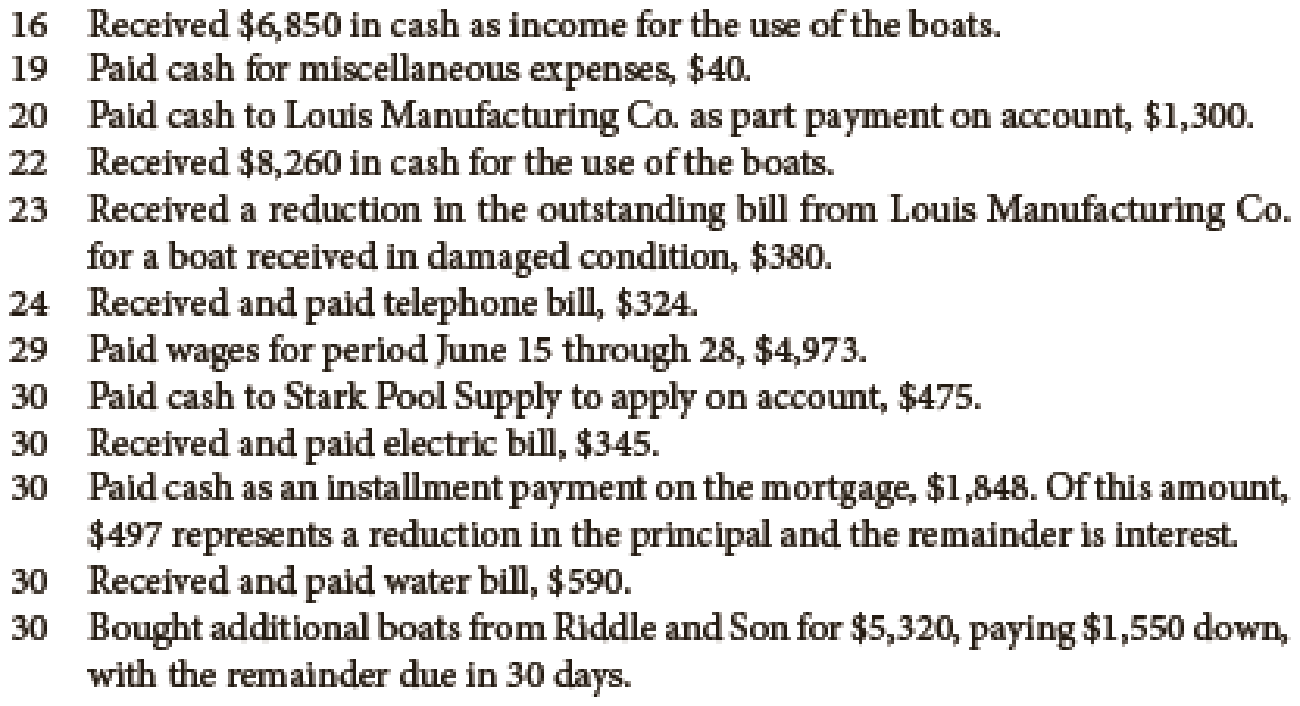 Required
1. Journalize the transactions. (Start on page 1 of the general journal if using Excel or Working Papers.)
2. Post the transactions to the ledger accounts. (Skip this step if using CLGL.)
3. Prepare a trial balance. (If using a work sheet, use the first two columns.)
4. Data for the adjustments are as follows:

a. Insurance expired during the month, $1,000.
b. Depreciation of pool structure for the month, $715.
c. Depreciation of fan system for the month, $260.
d. Depreciation of sailboats for the month, $900.
e. Wages accrued at June 30, $810.
Your instructor may want you to use a work sheet for these adjustments.
5. Journalize adjusting entries.
6. Post adjusting entries to the ledger accounts. (Skip this step if using CLGL.)
7. Prepare an adjusted trial balance
8. Prepare the income statement
9. Prepare the statement of owner's equity.
10. Prepare the balance sheet.
11. Journalize closing entries.
12. Post closing entries to the ledger accounts. (Skip this step if using CLGL.)
13. Prepare a post-dosing trial balance.
Check Figure
Trial balance total, $281,858; net income, $7,143; post-dosing trial balance total, $263,341