A gas heater shown below in cross-section consists of a square sheet metal duct insulated on the outside. A 5-cm OD steel pipe passes through the center of the duct and the pipe wall is maintained at 250C by condensing steam flowing through the pipe. Air at 20C will be fed to the heater at a rate of 0.35 kg/s.
(a) Calculate the equivalent diameter for the heater.
(b) Calculate the length of the heater required to heat the air stream to 60

Ans. (a) De = 0.1083 m. (b) 8.1 m.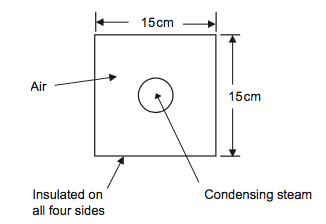 Students who've seen this question also like:
Want to see this answer and more?
Experts are waiting 24/7 to provide step-by-step solutions in as fast as 30 minutes!*
*Response times may vary by subject and question complexity. Median response time is 34 minutes for paid subscribers and may be longer for promotional offers.