7 ln pharmaceutical research, structural analogs (or derivatives) of drugs are often made in order to see if they have similar biological properties. Following is a structural analog of Peramivir (Problem 19-46) called A.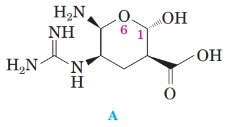 (a) Complete the drawings of the alternative chair conformations of A, making sure to note the numbering of the ring atoms. Which of the alternative chair conformations is more stable? (Chapter 1 1)

(b) A is formed from the cyclization of B. Which two functional groups in B react to form A? What is the name of the new functional group formed when these two groups react to close the ring?