Cervical Cancer Incidence in HPV-Positive Women
A persistent infection with one of about 10 strains of genital HPV (human papillomavirus) is the main risk factor for cervical cancer. The virus spreads easily by sexual contact, but vaccines that prevent infection have been available since 2006. The vaccines consist of viral proteins that self-assemble into virus-like particles. The particles are not infectious (they contain no viral DNA), but their component proteins trigger an immune response that can prevent HPV infection and the cervical cancer it causes.
In 2003, Michelle Khan and her coworkers published results of their 10-year study correlating HPV status with cervical cancer incidence in women (FIGURE 37.23). All 20,514 participants were free of cervical cancer when the study began.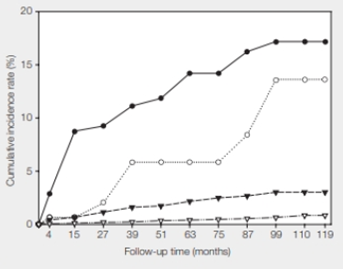 FIGURE 37.23 Cumulative incidence rate of cervical cancer correlated with HPV status.
● HPV16 positive
○ HPV16 negative and HPV18 positive
▾ All other cancer-causing HPV types combined
▿ No cancer-causing HPV types was detected.
In which group would women infected with both HPV16 and HPVI8 fall?