Interpretation Introduction
Interpretation:
An equation which describes as a function of and position x of the movable contact of the voltage divider is to be derived for the figure shown below.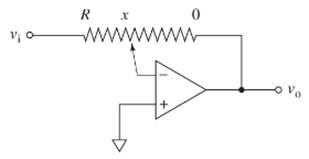 Concept introduction:
An inverting amplifier circuit is shown here. Variable resistance is used when one part from 0 to position of the contact x, appears in the feedback loop and the remaining portion appears at the input. Since the op-amp has very high input resistance, input current will be entirely flowing through the feedback loop. Using this, we can find the output voltage in terms of the position x and input voltage .