Interpretation Introduction
Interpretation:
The location of the contact in a slide wire along its length for the circuit shown below should be identified.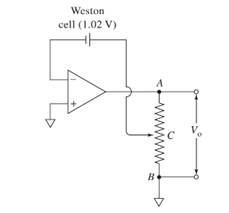 Concept introduction:
A voltage follower circuit is here with a Weston cell in the feedback loop. Since the op-amp has very high input resistance, the voltage from the Weston cell will appear across the output resistance part BC. The voltage across BC can be obtained using potential divider concept. Using this we can find the point at which the contact C is to be placed.