Given:
A container in the shape of inverted cone has height cm and radius cm at the top.
Calculation:
The diagram is show below: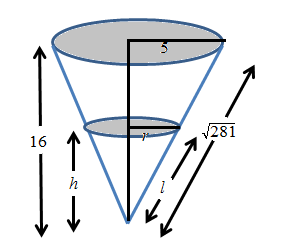 From the diagram,
The volume of the cone is
Differentiate the above equation with respect to t on both sides.
   ...... (1)
But the rate of change of volume is also equals to the difference of what is being added ( cubic centimeter/ min) and what is oozing out ( , where is the area of the cone and k is proportional constant).
So,
   ...... (2)
From equations (1) and (2), equate right hand side expressions
Substitute
Then
Solve for variable k,
If height of the liquid is constant, then the rate of oozing, must be equal to rate of liquid being poured in.
That is