Given:
The family equations and .
Derivative rules:
Chain rule:
Proof:
The equation of the curve is .
Differentiate implicitly with respect to x.
Apply the chain rule and simplify the terms,
Thus, the slope of the tangent to the circle is .
Suppose that the circle and straight line are intersect at the point .
The slope of the tangent to at is .
The given straight line is passing through point .
Clearly, the straight line passing through the points and .
The slope of the tangent line computed as follows,
Thus, the slope of the straight line is .
Note: The two tangent lines are orthogonal if the product of their slopes is -1.
Hence, the family of the curves and are orthogonal trajectories is proved.
Graph:
The family of the circles and straight lines as shown below in Figure 1.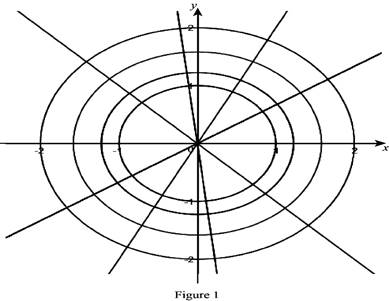 From Figure 1, it is observed that the family of the circle and family of the straight line are orthogonal trajectories.