Given information:
The profit (in dollars) generated by selling units of a certain commodity is given by .
Calculation:
Graph the profit function .
To graph a function , follow the steps using graphing calculator.
First press "ON" button on graphical calculator, press key and enter right hand side of the equation after the symbol . Enter the keystrokes .
The display will show the equation,
Press the window key and adjust the window to to .
Now, press the key and key to produce the graph of given function in standard window as shown in Figure (1).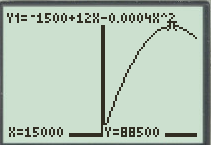 Figure (1)
The maximum value of the profit function is at .
Therefore, the maximum profit is equal to and number of units sold to generate it is equal to .