Given information: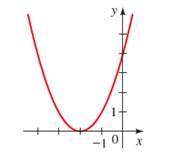 Concept used: A function with domain A is called a one-to-one function if no two elements of A have the same image, i.e.
If be a one-to-one function with domain A and range B. Then its inverse function has domain B and range A and is defined by
Calculation:
From the given graph of the function, it is clear that the value of don't repeat between and . So, in the domain the given function is one-to-one.
Therefore, the inverse of the given function with restricted domain can be written as