Given information:
The graph shows the depth of water in reservoir over a one-year period as a function of the number of days since the beginning of the year.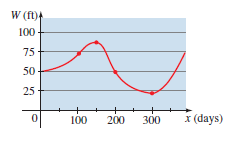 Calculation:
As observed from the graph, the depth of water increases in first days and then decreases for days and then increases for the rest of the days.
So, the function increases from to , decreases from to and it increases again from onwards.
Therefore, the intervals on which the function is increasing is and decreasing on .