Given information :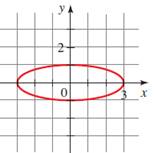 Concept used : A curve in the coordinate plane is the graph of a function if and only if no vertical line intersects the curve more than once.
The domain is the set of X coordinate and the range is the set of Y coordinate of any graph.
Vertical line intersects the curve of graph twice. So, the curve of the graph is not a function of .
So, here the domain is and the range is .