Given:
The given graphs is,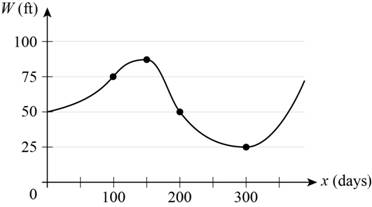 Figure (1)
Formula used:
Average rate of change of function between and .
(1)
Calculation:
The given graph shows the depth of the water in a reservoir over a one-year period as a function of number of days x.
From the given graph, for , is 75 and for , is 50.
Substitute 50 for , 75 for , 100 for a and 200 for b in equation (1).
Therefore, the average rate of change of water between and from the given graph is .