Graph:
The given graph is shown as in Figure 1,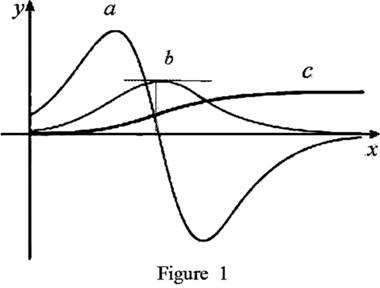 Observation:
Observe the graph of b and a carefully.
The point where is the same point where graph of has horizontal tangent.
Recall that the derivative of a function is zero where the function has a horizontal tangent.
Therefore, is the derivative of the graph . That is, .
Observe the graph of a and c carefully.
The graph of a has both positive and negative values. Hence a can be either velocity or acceleration.
The points where the graph of a has horizontal tangent, the functional value of c is not zero at that point.
This implies that, .
The only possibility is that a is the acceleration curve. This implies that .
So, .
Thus, c is position curve, b is velocity curve and a is acceleration curve.