Graph: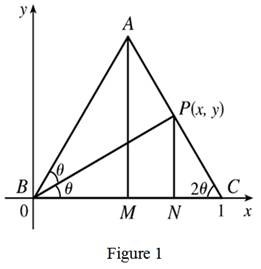 Calculation:
Let the coordinate system and drop a perpendicular from P.
From the triangle the angle that ,
And from the triangle the angle that .
By using double-integral formula for tangents,
Simplifying above equation
Applying cross multiplication
(1)
As the altitude AM decreases in length, the point P will approach the x-axis, means y approaches to 0. So the limiting location of P exists and it must be one of the root of the equation. The point P can never be to the left of the altitude AM, so here x not equal to zero, so it must be implies .
Thus, the limiting position is .