Given: The graph of function.
Let be any function and graph of this function is given.
It has to find numbers of points at which is not differentiable.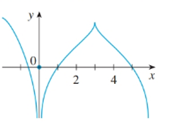 The function is not differentiable at the following numbers:
   Because is not continuous there.
   Because the graph of has a corner at , for a graph to be differentiable, the curve must be smooth.
Hence, the numbers are 0 and 3 where is not differentiable.