Given:
The function .
Graph:
Draw a parabola of between the interval and draw a ray of starting at the point (1, 1) on a given interval and draw a ray of on a interval .
The graph of is shown below in Figure 1.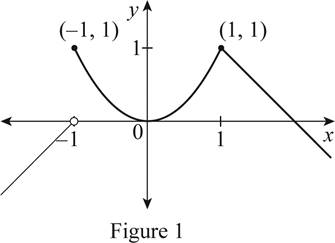 From Figure 1, it is observed that graph has a parabola with center and passing through the points and . Moreover, the graph has a ray which starts at .
Notice that the left-sided limit and the right-sided limit are not same when .
That is, .
Therefore, it can be concluded that exists for every value of a excluding at the point .