Let x-axis be represented the rental charge in dollars and the y-axis be represented the number of spaces rented.
Given that the linear function of number of spaces is .
Here, the slope of the linear equation is −4 and the y-intercept is 200.
Obtain the value of y for various values of x and draw the graph of y as shown below in Figure 1.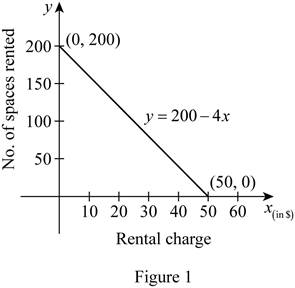 From Figure 1, it is observed that the value of x-intercept is 50.