Given information:
The set, .
Graph:
The graph of the region provided by the set is sketched in the coordinate plane.
Construct broken horizontal line and solid vertical line .
Shaded the region right of the line and below the line .
The region obtained is provided below,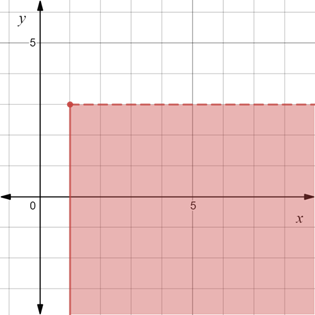 Interpretation:
The region provided by the set is shaded region. The solid vertical line at denote that they are included in the region.The broken horizontal line at denotes that it is not included in the region. The region consists of all those points whose y-coordinate is less than 3 and x-coordinate is greater than or equal to 1. Therefore, shaded region is the region to the right of and below .